------------------------------
Hi, I am the programmer for Devil Devour Alive DX, a pick-up-and-play occult themed single screen arcade game.

I thought I'd post about it in here because out team loves arcade games. We are not getting a lot of traction from the average steam player and know there must be more players with a love of arcade games on steam.

The player collects sinners as they fall from the lightning filled sky in a chute that sends them to a pit to be ground eternally between gears all to feed a stream of blood to the devil.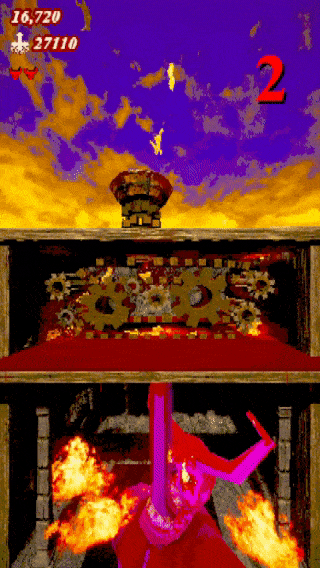 We are planning a release on October 25th, with wishlists available now if you are interested :
https://store.steampowered.com/app/1938690/DEVIL_DEVOUR_ALIVE_DX
/
Our two person team has been developing this commercial version of the game from our Ludum Dare 46 game jam submission.
https://ldjam.com/events/ludum-dare/46/Devil-Devour-Alive
We developed the game in unreal engine and used blueprinting for the code. It's been a lot of work but I'm really proud of the progress. We have tested a very early build of our game on an arcade cabinet with a vertical CRT but don't have access to do that at the moment. If anyone has a vertical screen cabinet with the ability to play computer games we'd love to have them try our game !
Here are the features of our game:
ARCADE STYLE PICK UP AND PLAY ACTION
LO-FI RETRO INSPIRED 1990s AESTHETIC (32-bit era)
"TATE" MODE GAMEPLAY (VERTICAL/PORTRAIT)
ORIGINAL SOUNDTRACK BY MERCURIUS FM (SPOOKY SYNTHWAVE)
KEYBOARD AND CONTROLLER SUPPORT
DRM FREE
WEEKLY CHALLENGES
100 UNLOCKABLE SINNER PORTRAITS
ONLINE LEADERBOARD / HIGH SCORES (TRY TO BE THE BEST!)
PROCEDURAL GENERATED GAMEPLAY (UNLIMITED REPLAY VALUE)
60 FPS ARCADE QUALITY PERFORMANCE (on most hardware)
FULL COLOR DIGITAL MANUAL (PDF)
WALLPAPER PACK (bonus item in game data)
Looking forward to hearing your thoughts!


Edited by virtuaworlds - 26 Oct 2022 at 5:35am