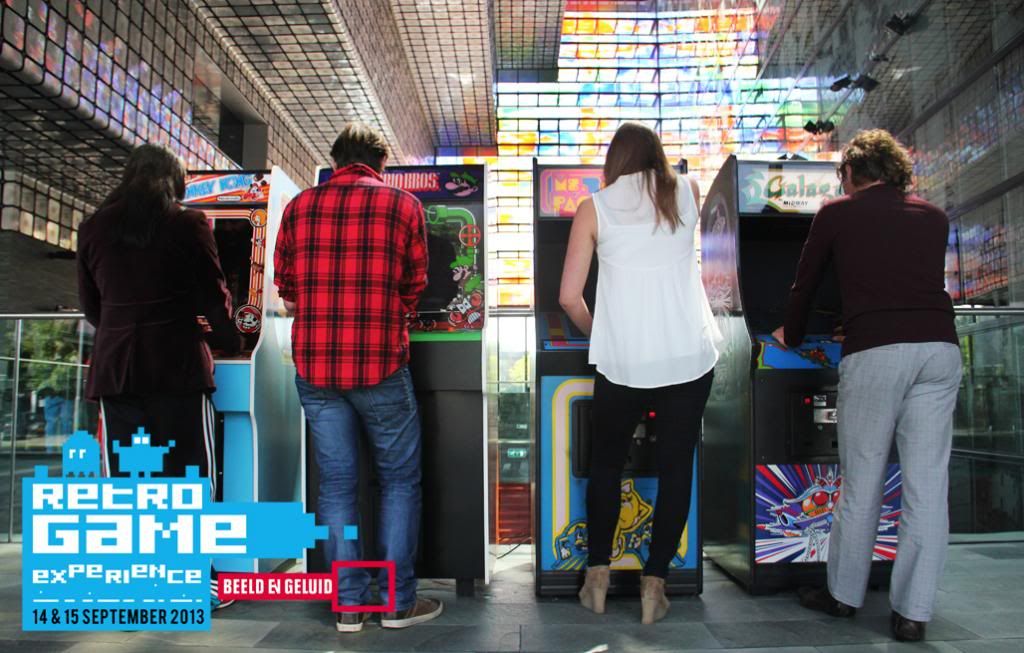 The Retro Game Experience - 14 & 15 September 2013 @ The Netherlands Institute for Sound and Vision
Attention collectors: retro gaming grails overload ahead!
This year at Eurocade, during 2 days, you will indeed see them everywhere because
"The Retro Game Experience"
is spicing up Eurocade's "usual" Classic Arcade rows with a really impressive collection of: candy cabs, vintage consoles, forgotten handhelds, good ol' PC games, pixel movies, arcade documentaries, speeches, cosplay, Quizzz, High Score competitions, 8bit memorabilia and so much more...
Picture yourself at RGE: you're playing a dedicated Pong cab with one hand while gently caressing a Magnavox Odyssey with the other hand AND keeping an eye on your back to prevent any Doom Demons attacks from hell at the same time? This is what we call a sweet genuine Retro Gaming Experience, don't we?!
You've always hesitated whether Galaga or Galaxian is the best game? Well, don't believe the hype spread by haters and come check both for yourself at RGE!
Bullies stole your quarters and beat you at Mortal Kombat with them back in the days?That won't happen at RGE 'cause everything is on free play here... Now is your chance to impress that (no longer) teenage chick with your fatalities skills.
Space Invaders, Pac-Man, Donkey Kong, Super Mario Bros.,Tetris,... you name them, if they were released between Computer Space and the fluorescent nineties, they are all at RGE in all kinds of shapes and sizes!
Were there really Atari E.T. cartridges buried in the US desert?Is there something behind that Volcano in Battle Zone? Which tape loads slower "International Karate" ZX Spectrum or the C64 version? ... all these answers and many more will be answered at RGE.
What if all the cabs, consoles and PCs are taken and nobody wants you in his Mario Kart team?
Do not worry, there's always something cooler than cool to do in RGE land:
- Catch a movie (Wreck-It Ralph', the cult classic 'The King of Kong' and the European premiere of 'The Video Craze' + a unique film about gaming through the ages featuring special selections from the large television archive of Sound and Vision).
- Attend a panel discussion (Games reviewer Steven Saunders from the Dutch tv-show Gamekings will be present to discuss his favorite retro games. Video game author and Handheld expert Martijn Koch (Blanka) will also be present to speak about handheld video games + a panel discussion on the topic 'The Return of the Arcade').
- Show off your deep knowledge on the matter in the RGE Retro Game Quiz.
- Be the King: you true gamer can also try to beat the high score in the Donkey Kong High Score Competition on the original Nintendo arcade cabinet from 1981.
Now, just hop in your DeLorean (Splash Wave blasting on the stereo) and ride to the The Retro Game Experience...

The Retro Game Experience is freely accessible with a ticket (€15,-) for the Sound and Vision Experience. Reserve a 2 day ticked online and get a €7.50,- discount!For more information, time table and video's check the website or facebook